A message from our Group Chair…
Dear All,
Firstly, I and 9th Muswell Hill (the Group) hope you and your families are staying safe and well in these uncertain times during the Covid-19 medical emergency.
Our leaders are putting together a plan to move Scouting online for the summer term as presently it is clear that scouting will not be able to resume in the immediate future whilst government social distancing regulations remain in place. Details will be sent out shortly on how this will be implemented.
For those that have signed up for camps and events that have been cancelled emails have gone out along with details of how to claim a refund.
The leaders will continue to review the position for future events based upon government and Scout headquarters guidance, and will advise members attending planned events once more details are available in the coming weeks.
As with all charities at the moment, the committee have been looking at the Group's financial position and our committed costs for the summer term. Below is a breakdown of the Group's fixed costs which provided the committee with a projection of our financial expenses for the next term: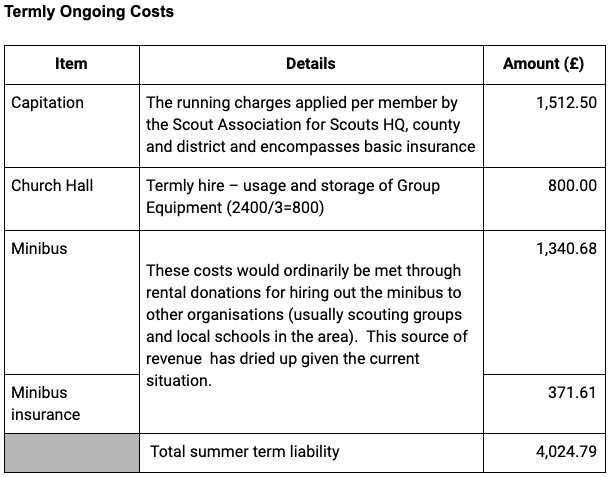 We have divided our projected termly liability by the number of Group members of 120. Accordingly, we are requesting members pay a reduced subscription of £35.00 for the summer term to help the Group stay viable.
The reduced subscription payment of £35.00 for the summer term will be taken in the normal way via Online Scout Manager and GoCardless on 27 April 2020, you do not need to do anything.
However, I understand that the current medical emergency has affected all our lives in so many ways not least impacting the finances of some members who may require some additional support. If you are in need of financial assistance in paying the reduced subscription the Group has a small standing hardship fund to assist members in most need; to apply for this you can follow the link 9thmuswellhill.org.uk/group/hardship-fund and complete the form.
Please do this as early as possible and no later than 20th April 2020 to allow matters to be addressed through Online Scout Manager.
For those who are able to pay the full subscription and would like to do so to help support the Group during this time you can top-up the reduced subscriptions or make additional donations to the Group hardship fund via the PayPal link on our website; 9thmuswellhill.org.uk/group/hardship-fund.
If you have any questions please don't hesitate to contact myself, Dan Sheehan or Jack Timbrell.
I and the Group thank you for your continued support and wish you and your families stay safe and well during the medical emergency.
Kind Regards
Balbinder Kaur Geddes
Group Chair
9th Muswell Hill