Dear All,
The new Scouting Term is very nearly upon us once again.
The National Youth Agency guidance (which we are required to follow as a Group) does not currently allow for face to face Scouting in our area, so all sections, at least for the first few weeks of term, will be picking up their meetings online.
As before we are committed to running as many outdoor section meetings as we possibly can so will be operating a flexible "hybrid" approach as restrictions change over the coming week and months, reverting to online Scouting when face to face activities are forbidden.
Each section will shortly send out details of their first meetings back and programmes for the coming weeks, but in consideration of the current uncertainty please bear with us as our planning and published programmes come with an even bigger "to be confirmed" caveat than usual!
Please note that as we now find ourselves working with online Scouting for the long haul, we do expect all members to attend these meetings regularly in-line with our existing membership policy out of respect for both the leaders working hard to plan these activities and those on our ever growing waiting list. In order to ensure no one misses out on badge work and Chief Scout awards we'll be incorporating this into remote sessions. If you have any questions or problems getting involved in virtual session please do get in touch with your section leader or myself so we can help resolve these.
Below is some information about how to access and take part in online Scouting activities for existing members, those who have moved sections and those joining us new for the first time in January.
If you were in your current section in November 2020…
Nothing has changed- your login details, process and format of online meetings will be the same as during the November restrictions that stopped outdoor meetings.
Please make sure you have logged in to check everything is working (and that you can still remember your password!) before the first session.
If you are starting a new section this term…
Your login details have stayed the same and you have been move into your new "classroom" to join in with your new Section group.
1) Head to classroom.google.com/9thmuswellhill.org.uk
2) Login using your 9th Muswell Hill email account (a personal, school or parents account will NOT work)
3) You will land on the classroom homepage and see an invitation to your new section- click the blue JOIN button
4) From here, everything will be familiar as it was before. Links to any virtual meetings will appear in the "Stream" page shortly before the meeting is due to start.
If you are new to the Group…
1) Look at our website 9thmuswellhill.org.uk/return-to-scouting/virtual-scouting where you will find:
Full instructions and information about how we run online Scouting
A "quick start guide" to login and join a video call
A step by step video guide walking you through the process from scratch
2) Visit classroom.google.com/9thmuswellhill.org.uk
3) Login to your 9th Muswell Hill account using the details/ format shown in the purple box below (a personal, school or parents account will NOT work)
4) Change your password to something memorable and secure when prompted
4) "Join" the classroom page for your section when asked
5) Activities to do at home and links to any virtual meetings will appear in the "Stream" page shortly before the meeting is due to start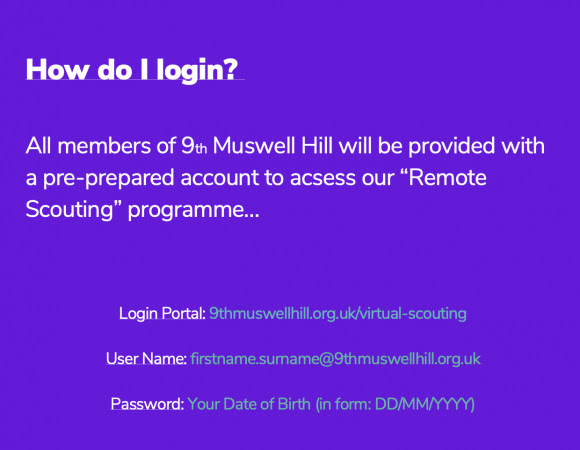 Forgotten Your Password? Need some more help?
If you have any problem logging in, are confused by the instructions above or have forgotten your password and need help logging in, please contact Dan (dan@9thmuswellhill.org.uk) ASAP.
Please do this as soon as possible- I will not be able to help what could be a lot of people just before the first meetings of term!
Yours in Scouting
Dan Sheehan
Group Scout Leader
9th Muswell Hill