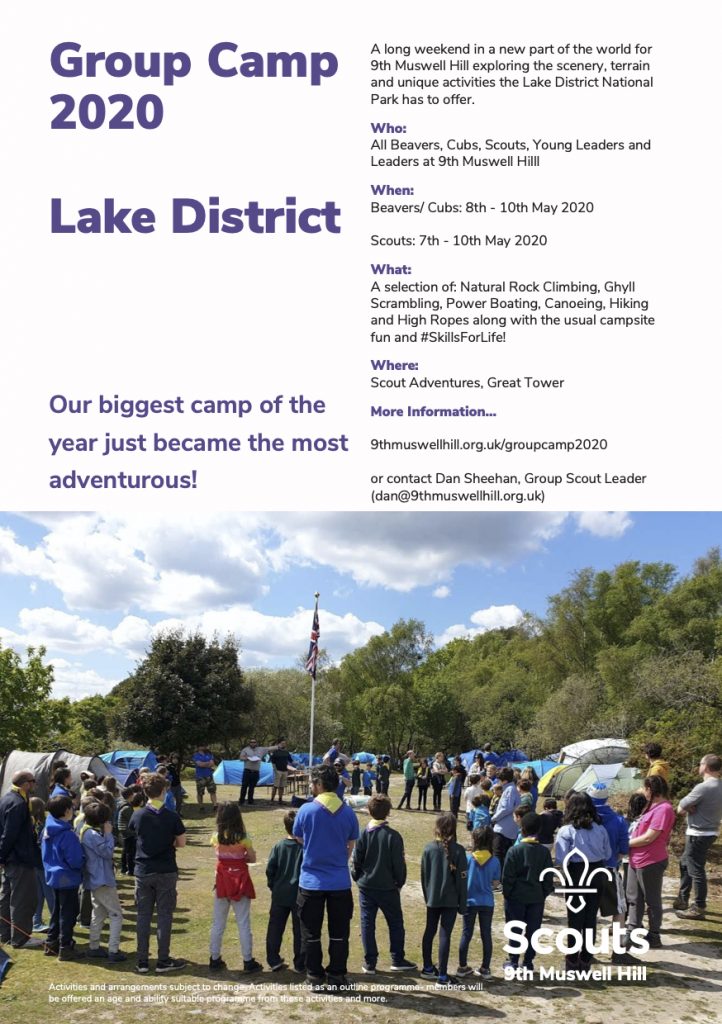 Thursday 7th May 2020 – Sunday 10th May 2020
Group Camp 2020
Scout Adventures, Great Tower
Our biggest camp of the year just became the most adventurous!
A long weekend in a new part of the world for 9th Muswell Hill, exploring the scenery, terrain and unique activities the Lake District National Park has to offer.
Open to Beavers, Cubs, Scouts, Young Leaders and Leaders at 9th Muswell Hill taking part in a selection of outdoor activities including a selection of: Natural Rock Climbing, Ghyll Scrambling, Power Boating, Canoeing, Hiking and High Ropes along with the usual campsite based fun and #SkillsForLife!
Costs and Payments:

Beavers/ Cubs (2 Nights)- £85

Scouts (3 Nights)- £90
Equipment and Clothing:

A full kit list can be found at the link below. This includes the usual expectations of quality outdoor kit to cover all possible elements.
There will be a kit check session taking place to ensure all members are well equipped for safe, comfortable and enjoyable weekend. Attendance at these session will be expected by everyone without exception.

Beavers, Cubs (Tues), ALL Scouts: Tuesday 5th May 2020

Cubs (Thurs): Thursday 30th April 2020

Please plan to ensure your kit is fully packed and bought along ready to load up on these session. This is a big logistical operation and we would appreciate not having to find the extra capacity to deal with late, missing or incorrectly packed luggage.

Our instructions are very specific not be difficult but based on years of experience, experiment and practise.
Departure:

Beavers/ Cubs- Depart from Scout Park Bounds Green on Friday morning.

Scouts- Depart from St. Peter Le Poer, Muswell Hill on Thursday evening.
Return: We will all return to Scout Park, Bounds Green on Sunday evening.